18. Workflows
Workflows allow you to configure a sequence of disparate job templates that may or may not share inventory, playbooks, or permissions. However, workflows have 'admin' and 'execute' permissions, similar to job templates. A workflow accomplishes the task of tracking the full set of jobs that were part of the release process as a single unit.
Note
Workflows are only available to those with Enterprise-level licenses.
Job templates are linked together using a graph-like structure called nodes. Job template nodes are associated with job templates. A job template can be a part of different workflows or used multiple times in the same workflow. A copy of the graph structure is saved to a workflow job when you launch the workflow.
As the workflow runs, jobs are spawned from the node's linked template. Nodes linking to a job template which has prompt-driven fields (job_type, job_tags, skip_tags, limit) can contain those fields, and will not be prompted on launch. Job templates with promptable credential and/or inventory, WITHOUT defaults, will not be available for inclusion in a workflow.
A node can have only one parent and can only have children that is linked to a state of success, failure, or always. If always, then the state is neither success or failure. States apply at the node level, not at the workflow job template level. A workflow job will be marked as successful unless it is canceled or encounters an error.
If you attempt to launch a workflow job template that has the following missing pieces, the user interface will notify you as a warning but will still proceed:
Job template deleted from the node
A prompted field is provided, but the job template is not set to prompt on launch for the field
If you launch from the API, running a get command displays a list of warnings and highlights missing components. The basic workflow for a workflow job template is illustrated below.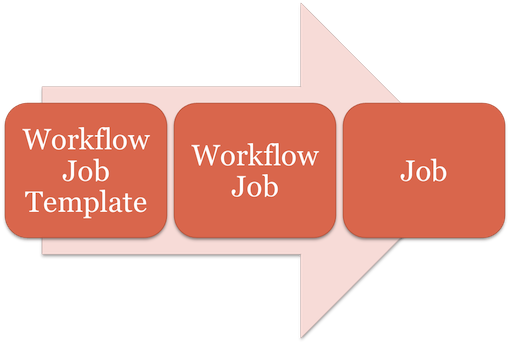 It is possible to launch several workflows simultaneously, and set a schedule for when to launch them. You can set notifications on workflows, such as when a job completes, similar to that of job templates.
18.2. Workflow States
The workflow job can have the following states (no Failed state):
Waiting
Running
Success (finished)
Cancel
Error
In the workflow scheme, canceling a job cancels the branch, while canceling the workflow job cancels the entire workflow. Deleting a job template does not delete the job node, but will indicate that is it invalid by displaying in the user interface, a broken link in the workflow, which prompts for correction without adverse impact to the structure of the workflow.
18.3. Role-Based Access Controls
To edit and delete a workflow job template, you must have the admin role. To create a workflow job template, you must be an organization admin or a system admin. However, you can run a workflow job template that contains job templates you don't have permissions for. Similar to projects, organization admins can create a blank workflow and then grant an admin_role to a low-level user, after which they can go about delegating more access and building the graph. You must have execute access to a job template to add it to a workflow job template.
Other tasks such as the ability to make a duplicate copy and re-launch a workflow can also be performed, depending on what kinds of permissions are granted to a particular user. Generally, you should have permissions to all the resources used in a workflow (like job templates) before relaunching or making a copy.
For more information on performing the tasks described in this section, refer to the Ansible Tower Administration Guide.