20.

Jobs

A job is an instance of Tower launching an Ansible playbook against an inventory of hosts.

The Jobs link displays a list of jobs and their status–shown as completed successfully or failed, or as an active (running) job. Actions you can take from this screen include viewing the details and standard output of a particular job, relaunching jobs, or removing jobs.

Starting with Ansible Tower 3.3, from the list view, you can re-launch the most recent job. You can re-run on all hosts in the specified inventory, even though some of them already had a successful run. This allows you to re-run the job without running the Playbook on them again. You can also re-run the job on all failed hosts. This will help lower the load on the Ansible Tower nodes as it does not need to process the successful hosts again.
The relaunch operation only applies to relaunches of playbook runs and does not apply to project/inventory updates, system jobs, workflow jobs, etc.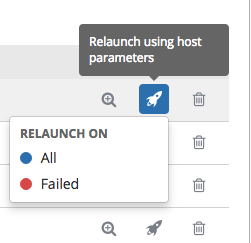 Selecting All relaunches all the hosts.

Selecting Failed relaunches all failed and unreachable hosts.
When it relaunches, you remain on the same page.
Use the Tower Search feature to look up jobs by various criteria. For details about using the Tower Search, refer to the Search chapter.
Clicking on any type of job takes you to the Job Details View for that job, which consists of two sections:
The Details pane provides information and status about the job

The Standard Out pane displays the job processes and output