7.

Organizations

An Organization is a logical collection of Users, Teams, Projects, and Inventories, and is the highest level in the Tower object hierarchy.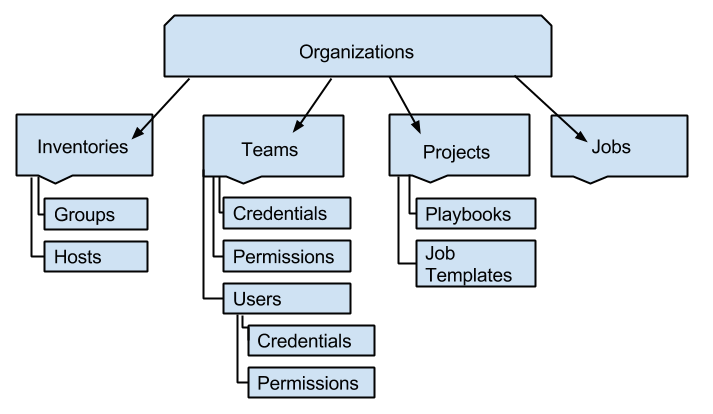 Access the Organizations page by clicking the Organizations (

) icon from the left navigation bar. The Organizations page displays all of the existing organizations for your installation of Tower. Organizations can be searched by Name or Description. Modify and remove organizations using the Edit and Delete buttons.
Note
Tower creates a default organization automatically. Users of Tower with a Self-Support level license (formerly called Basic) only have the default organization available and should not delete it. Users of older versions of Tower (prior to 2.2) will not see this default organization.
7.1.

Creating a New Organization

You can create a new Organization by selecting the

button.
An organization has several attributes that may be configured:
Enter the Name for your Organization (required).

Enter a Description for the Organization.

Enter an Instance Group on which to run this organization.

Select from the drop-down menu list a custom virtual Ansible Environment on which to run this organization. This field is only present if custom environments were previously created. See Using virtualenv with Ansible Tower in the Ansible Tower Upgrade and Migration Guide.

The Max Hosts is only editable by a superuser to set an upper limit on the number of license hosts that an organization can have. Setting this value to 0 signifies no limit. If you try to add a host to an organization that has reached or exceeded its cap on hosts, an error message displays:

The inventory sync output view also shows the host limit error. Click the
icon for additional detail about the error.

Click Save to finish creating the Organization.
Once created, Tower displays the Organization details, and allows for the managing of users and administrators for the Organization.