When a playbook runs on an individual Tower instance in a cluster, the output of that playbook is broadcast to all of the other nodes as part of Tower's websocket-based streaming output functionality. It is best to handle this data broadcast using internal addressing by specifying a private routable address for each node in your inventory:
Note
Prior versions of Ansible Tower used the variable name rabbitmq_host. If you are upgrading from a previous version of Tower, and you previously specified rabbitmq_host in your inventory, simply rename rabbitmq_host to routable_hostname before upgrading.
7.2.1.

Instances and Ports Used by Tower and Automation Hub

Ports and instances used by Tower and also required by the on-premise Automation Hub node are as follows:
80, 443 (normal Tower and Automation Hub ports)

22 (ssh - ingress only required)

5432 (database instance - if the database is installed on an external instance, needs to be opened to the tower instances)
7.2.2.

Optional SSH Authentication

For users who wish to manage SSH authentication from "controller" nodes to "isolated" nodes via some system outside of Tower (such as externally-managed passwordless SSH keys), this behavior can be disabled by running a deprovisioning command: awx-manage remove_isolated_key.
7.3.

Status and Monitoring via Browser API

Tower itself reports as much status as it can via the Browsable API at /api/v2/ping in order to provide validation of the health of the cluster, including:
The instance servicing the HTTP request

The timestamps of the last heartbeat of all other instances in the cluster

Instance Groups and Instance membership in those groups
View more details about Instances and Instance Groups, including running jobs and membership information at /api/v2/instances/ and /api/v2/instance_groups/.
7.4.

Instance Services and Failure Behavior

Each Tower instance is made up of several different services working collaboratively:
HTTP Services - This includes the Tower application itself as well as external web services.

Callback Receiver - Receives job events from running Ansible jobs.

Dispatcher - The worker queue that processes and runs all jobs.

Redis - This key value store is used as a queue for event data propagated from ansible-playbook to the application.

Rsyslog - log processing service used to deliver logs to various external logging services.
Tower is configured in such a way that if any of these services or their components fail, then all services are restarted. If these fail sufficiently often in a short span of time, then the entire instance will be placed offline in an automated fashion in order to allow remediation without causing unexpected behavior.
For backing up and restoring a clustered environment, refer to Backup and Restore for Clustered Environments section.
7.5.

Job Runtime Behavior

The way jobs are run and reported to a 'normal' user of Tower does not change. On the system side, some differences are worth noting:
When a job is submitted from the API interface it gets pushed into the dispatcher queue. Each Tower instance will connect to and receive jobs from that queue using a particular scheduling algorithm. Any instance in the cluster is just as likely to receive the work and execute the task. If a instance fails while executing jobs, then the work is marked as permanently failed.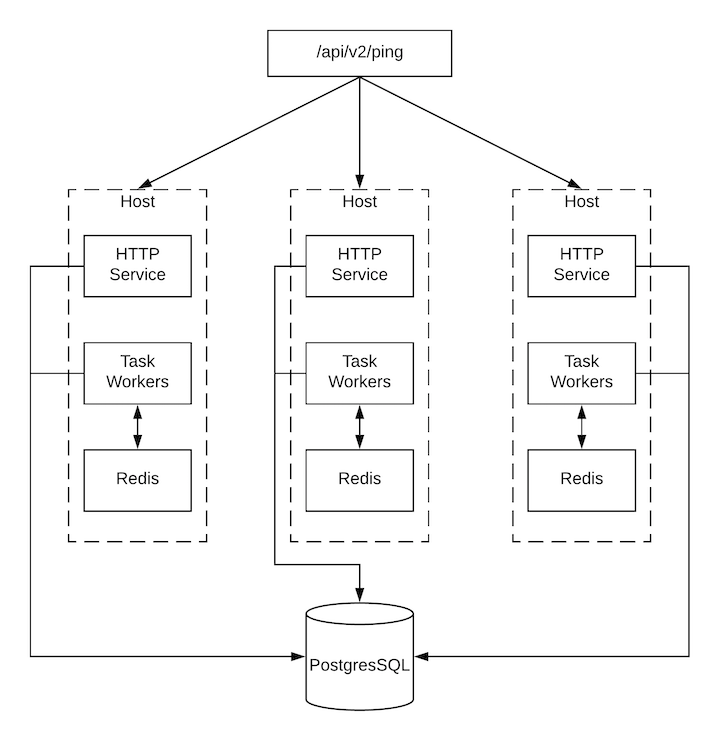 Project updates run successfully on any instance that could potentially run a job. Projects will sync themselves to the correct version on the instance immediately prior to running the job. If the needed revision is already locally checked out and Galaxy or Collections updates are not needed, then a sync may not be performed.

When the sync happens, it is recorded in the database as a project update with a launch_type = sync and job_type =  run. Project syncs will not change the status or version of the project; instead, they will update the source tree only on the instance where they run.

If updates are needed from Galaxy or Collections, a sync is performed that downloads the required roles, consuming that much more space in your /tmp file. In cases where you have a big project (around 10 GB), disk space on /tmp may be an issue.
7.5.1.

Job Runs

By default, when a job is submitted to the tower queue, it can be picked up by any of the workers. However, you can control where a particular job runs, such as restricting the instances from which a job runs on.

In order to support temporarily taking an instance offline, there is a property enabled defined on each instance. When this property is disabled, no jobs will be assigned to that instance. Existing jobs will finish, but no new work will be assigned.
7.6.

Deprovision Instances

Re-running the setup playbook does not automatically deprovision instances since clusters do not currently distinguish between an instance that was taken offline intentionally or due to failure. Instead, shut down all services on the Tower instance and then run the deprovisioning tool from any other instance:
Shut down the instance or stop the service with the command, ansible-tower-service stop.

Run the deprovision command $ awx-manage deprovision_instance --hostname=<name used in inventory file> from another instance to remove it from the Tower cluster.

Example: awx-manage deprovision_instance --hostname=hostB
Similarly, deprovisioning instance groups in Tower does not automatically deprovision or remove instance groups. For more information, refer to the Deprovision Instance Groups section.